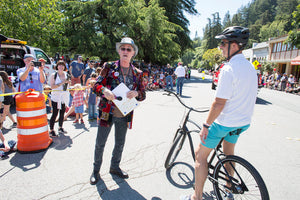 A Quintessential Famous4 Tradition
The Memorial Day Parade is here
Being trusted to produce the Veterans Ceremony, Parade, KIDDO!
After Parade Party and have my Fashion Police at all these events to protect
our kids from serious fashion offenders is a great part of my life. The love
and respect from all the great folks in Mill Valley is beyond words. Learning
"to let it in" is another step away from the wreckage of my past and the
biggest part of my spiritual growth and healing.
I hope that what I write resonates and can make a difference to
those walking or have walked in similar tracks.
I hope to see y'all on Memorial Day, Much love, LtHat
Parade Day Hats: Larry Approved!